Aplicom's management team has a strong international experience of the telematics business area.

Vesa Helkkula, CEO of Aplicom
M.Sc. ( Eng. ), MBA
Board Member since 1995. Founder of Aplicom.
Vesa Helkkula has an extensive and succesfull career in various Managing Director positions in private and public telecommunication companies since 1990. From 1999-2003 he was President and CEO of globally expanded Tecnomen Corporation, which was listed to Helsinki Exchange in 2000. Prior to 1990 he was working at Nokia having his last position as VP of Business Development at Nokia Mobile Phones. Vesa Helkkula was the first Managing Director at Aplicom after its foundation and returned at the beginning of 2005 to manage the company for its global expansion.
Read Vesa Helkkula's blog

Ilkka Leppänen
B.Sc. (Eng.)
Director of Aplicom Manufacturing and Materials
Board Member since 1995. Co-founder of Aplicom.
Ilkka Leppänen has been working for Aplicom since its foundation and is a partner in the company. His personal strengths lie in the management of operations of a technology company and personnel management. Before co-founding Aplicom he managed the Mobile Data group at Nokia.

Juha Savolainen
B.Sc. (Eng.)
CTO of Aplicom. Co-founder of Aplicom.
Juha Savolainen, one of the founding members and a partner in Aplicom, has both a vast and deep knowledge of technology. His understanding of the technologies in Aplicom's line of business is not only theoretical – he also has a very strong practical knowledge, which he brings to the Executive Board. He was previously a chief engineer at Nokia´s Mobile Data group.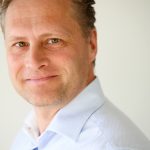 Paul Nieminen
M.Sc. (Geography)
Sales Director of Aplicom. Shareholder.
Paul Nieminen has vast experience of GIS and positioning technologies gained from years working at Graphikon GmbH, Novo Meridian Oy (Logica) and Benefon. Paul is always enthusiastic to find the best solution for customers and is leading the Aplicom Sales team by example. Paul's involvement in the Executive Board guarantees that the customer aspect is always in the forefront in EB meetings.

Anne Sinivaara
M.Sc. (Econ.)
CFO at Aplicom. Shareholder.
Anne Sinivaara, has been with the company since the beginning of Aplicom in 1990. Her expertise lies in the financial and accounting as well as administration side of running a business. Anne Sinivaara's high intelligence and learning capacity have been necessary in various phases of Aplicom`s development.

Atri Vainikainen
M.Sc. (Tech.)
Product Development Manager at Aplicom
Atri Vainikainen is the latest reinforcement to the Aplicom Executive Board. He has strong expertise in software production and processes and also in project management. Hi has gained considerable working experience from information technology and service technology in his earlier positions in Nokia Mobile Phones, Tampere University of Technology and Digia. Atri brings the latest know-how of software development to Aplicom`s executive board.
Other board members

Jyrki Salminen, Chairman
M.Sc. ( Eng. )
Vice President, Nokia Retail, Global Sales Office
Management Board Member since 2004
Jyrki Salminen brings to the Board his knowledge and expertise in global sales and marketing. His long experience and working as a Nokia executive gives him an exclusive insight into the world of telecommunications.

Tuomo Alamäki