Remote download of digital tachograph data is a rapid, efficient way to download archived and real-time tachograph data
The EU Regulation governing the digital collection and storage of data on drivers and vehicles has not been popular among heavy goods vehicle drivers, as it has increased their workload significantly. Automatic processing and management of driver card information and vehicle data is therefore a highly desired improvement in the daily work of drivers and transport businesses. You can meet this expectation of your customers by providing Aplicom's Remote Download Solution. Using this service the drivers and transport firms can easily forget that the EU regulation even exists!
The GPRS-based solution for remotely downloading digital tachograph data is a monthly service provided to Aplicom system partners. Aplicom provides a user interface with card readers and vehicle hardware, including an Aplicom telematics unit that can be used to provide other telematics services to end-customers together with digital tachograph data.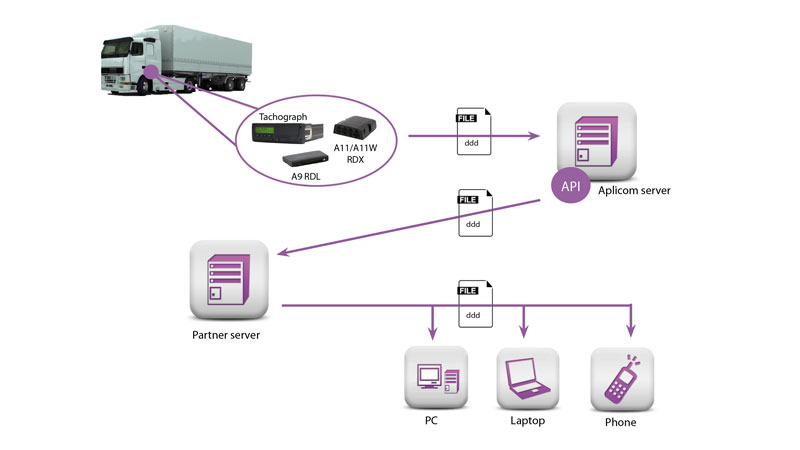 Remote download of digital tachograph data over GPRS provides a win-win situation to all participants in the value chain, with the greatest benefit enjoyed by the transport business.
Remote download of both the driver and vehicle data as well as the added value of a comprehensive vehicle telematics unit is a unique all-in-one package for Aplicom Partners.
The Aplicom service complies with the requirements of Community law on storing and monitoring driver card and vehicle data. The service supports the models of major digital tachograph manufacturers. Both archived and real-time tachograph data are supported.
End-customers will no longer endure a time-consuming download process in a vehicle or in  office.  The efficiency and transparency of dispatchers will also be improved by offering the real-time information of drive times and working hours for the task assignment. Working hour violations and related fees can thus be avoided and assignments can be approved and invoiced accurately.
Please contact Aplicom Sales for further details.
Download datasheet